GOOD LISTENERS
LIKE DRE, WE'VE BEEN LISTENING TO RECORDS SINCE EARLY CHILDHOOD, AND WANT TO MAKE THE ANALOG EXPERIENCE ACCESSIBLE TO EVERYONE IN OUR COMMUNITY.
WE MAY END UP GROOMING THE NEXT SUPERSTAR OR JOGGING HEARTFELT MEMORIES FROM YOUR YOUTH.
WE WELCOME ALL AGES, THERE ARE NO BARRIERS TO GOOD LISTENING.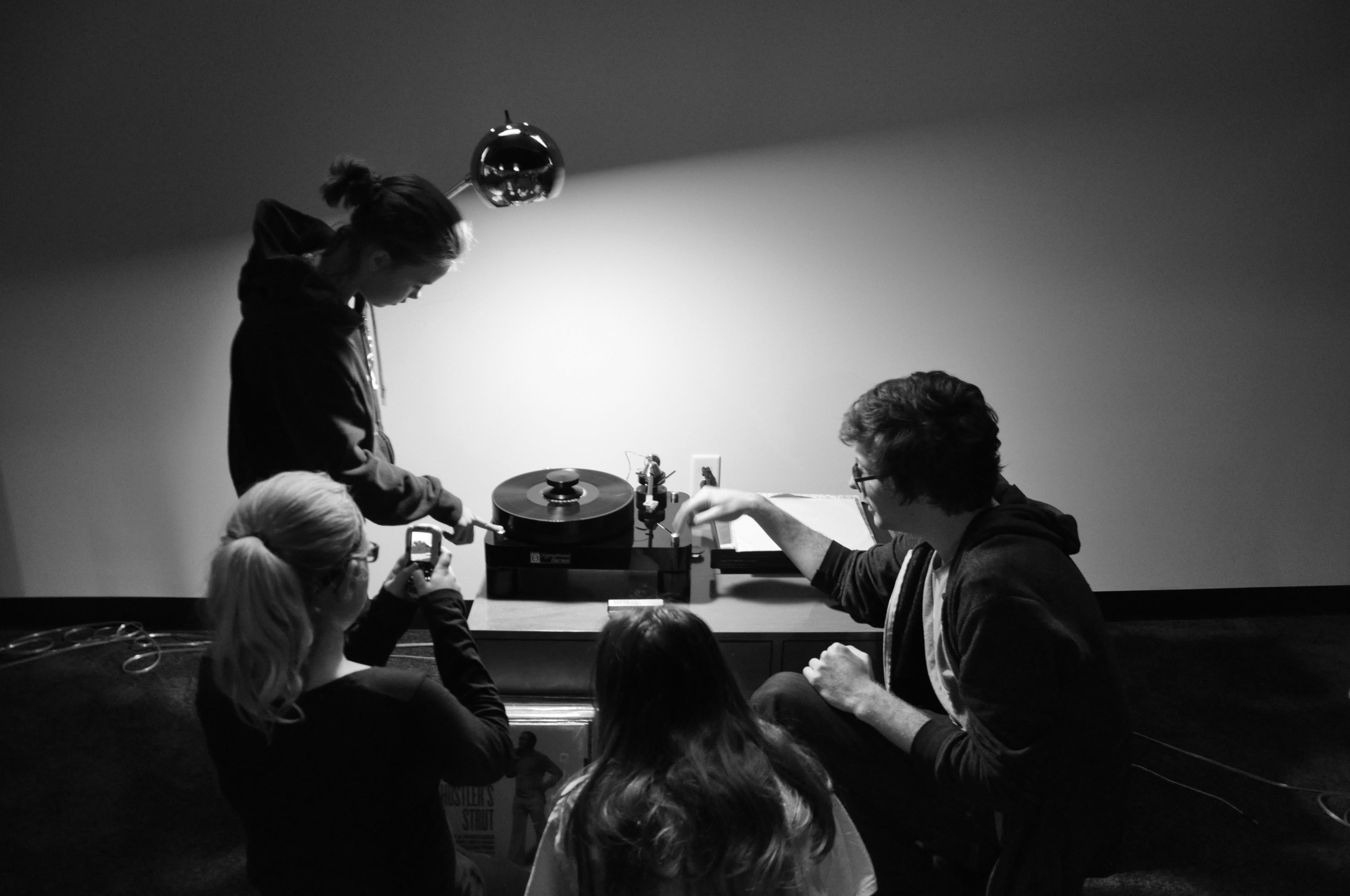 WE HAVE OUR OWN APPROACH TO MUSICOLOGY, IT ISN'T ACADEMIC IN ANY TRADITIONAL SENSE.
WE BELIEVE THAT WITH MUSIC, THERE'S NO RIGHT PLACE TO START. IT ALL DEPENDS ON YOU AND YOUR INTERESTS.
ROCK, POP, HIP HOP, JAZZ, 50'S, 60'S, 70'S, LABEL SPECIFIC, LOCAL HISTORY - WHATEVER EXCITES YOU.
AT HI-FI HOUSE YOU DISCOVER AND CREATE YOUR OWN PATHS.
AND HERE, ALL PATHS LEAD BACK TO BECOMING A GOOD LISTENER.
WE DO OFFER SOME GUIDANCE THROUGH SPECIAL LISTENING EVENTS, YOU CAN CHECK OUR CALENDAR FOR DETAILS AND TIMES.
YOU CAN ALSO PURCHASE A HI-FI HOUSE PASSPORT TO TRACK YOUR LISTENING, ASK ANYONE AT THE HOUSE FOR MORE INFORMATION ON PASSPORTS.
WE KEEP OUR ENVIRONMENT FOCUSED AROUND PERSONAL RELAXATION, COMFORT, AND ACCESSING PEACE OF MIND THROUGH MUSIC.
WE WORK WITH CAREGIVERS IN ALL FIELDS OF HEALTH AND WELL-BEING PROVIDING LISTENING THERAPY AND WELLNESS PROGRAMMING.
WE ALSO TAKE TIME TO LISTEN TO EACH OTHER IN HOPES OF BETTERING OUR COMMUNITY. OUR LAB PROJECTS ARE DIRECT MANIFESTATIONS OF THESE PERSONAL INTERACTIONS.